Construction Equipment Sales & Rentals in North America | Doggett
December 5, 2022 -- John Deere Construction and Forestry has presented Doggett Heavy Machinery and Doggett Machinery with the coveted Onyx Circle Award, as one of the four top-performing dealerships in the United States and Canada.
Since 2011, John Deere has presented the award after performing a dealership performance review for the top market share and customer support. The Onyx Circle Award was developed by John Deere as a way to recognize and reward outstanding achievement by its dealers.
Mike Ortiz, Vice President, says "This award is truly recognition for all the work that each of our employees do every day to make our organization great. Our phenomenal team is what makes us one of John Deere's best dealers and without all of them none of this would be possible."
Doggett Heavy Machinery and Doggett Machinery operate 16 John Deere Construction and Forestry locations throughout Texas and Louisiana.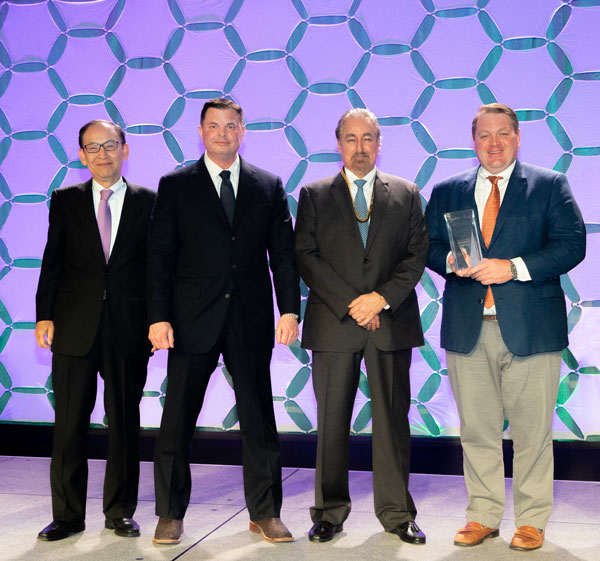 COLUMBUS, Indiana, April 4, 2022 –Toyota Material Handling (TMH) has announced Doggett Toyota Lift as a recipient of the annual President's Award, which recognizes the top Toyota forklift dealers in North America. The prestigious award honors dealers' performance at the highest level in parts, service, equipment sales, finance, customer satisfaction and overall operations. Doggett Toyota Lift with dealerships in Austin, Corpus Christi, El Paso, Laredo, Pharr and San Antonio, Texas is also a recipient of the Toyota Sales Excellence Award, Sales Elite Award, Service Excellence Award, Parts Excellence Award and CSS Excellence Award.
The winners, announced during Toyota's Annual Dealer Meeting on March 21, will celebrate together this fall in Amalfi and Rome, Italy.
"Doggett Toyota Lift has a long and successful history of providing solutions to our customers' evolving business needs and managing their material handling fleets to provide the lowest cost of ownership in South Texas and El Paso. We are honored to receive recognition on so many levels from Toyota Material Handling. We have an excellent team to thank for our accomplishments with dedicated solutions experts, support staff and factory-trained technicians that are absolute pros," says Andy Reynolds, Vice President and General Manager.
"The President's Award is our most prestigious honor, reserved for those who deliver a superior customer experience," said Bill Finerty, TMH President & CEO. "Toyota forklift dealers have a longstanding reputation for consistently going above and beyond for our customers. The dealers recognized represent the best of the best and we're proud to honor them and their commitment to excellent customer service."
Houston, TX. – (Apr 23, 2021) – Leslie Doggett Industries through its Heavy Duty Truck Division has acquired the San Antonio dealerships for Western Star (Daimler North America's Vocational and On-Highway Heavy Duty Truck line), Autocar (Severe Duty Class 7 and Class 8 vocational trucks – known for outstanding Trash/Waste Bodied Trucks) and Detroit Diesel from the Grande group of commercial dealerships owned by Richard (Dick) Kane for the past 50+ years.
Paul Burke, Executive Vice President and General Manager of the Doggett Truck Group said, "this acquisition will fit in very nicely with our outstanding service organization which was voted the #1 dealership in the US by Successful Dealer Magazine. Technicians and their work are everything to Doggett and our customers; we live and breathe UPTIME. Folding Western Star, Autocar and Detroit Diesel in to our fabulous work environment will be a win-win for our customers and our team of dedicated folks. This is all very exciting."
This acquisition complements Doggett's existing Texas Freightliner dealerships in San Antonio, Laredo, Pharr, Brownsville and El Paso giving Doggett Freightliner of Texas distribution rights for all Freightliner and Western Star branded trucks, Autocar and Detroit Diesel for the Greater San Antonio Market with full service/sales/leasing dealerships. Doggett is also the Freightliner, Western Star and Autocar dealer for the State of Arkansas with dealerships in Little Rock, Van Buren, Searcy and Springdale/Fayetteville.
Freightliner is the North American brand for the world's largest truck maker, Daimler Benz Trucks (German/Frankfurt – Daimler AG). Additionally, Freightliner is North America's largest highway (18 wheeler) and vocational truck manufacturer with an unprecedented market share often exceeding 40% having more than double the market share of Peterbilt, Kenworth, Mack and Volvo.Doggett is a Houston based diversified heavy equipment dealer/distributor for 7 first-tier manufacturers (www.DOGGETT.com) that are either number 1 or 2 in their respective industries: John Deere Construction and Forestry Equipment (18 dealerships), Toyota Industrial Equipment - forklifts & material handling (7 dealerships), Freightliner On-highway and Vocational Trucks (7 dealerships), Western Star On-Highway and Vocational Trucks (located in most of our Freightliner dealerships), Vernon Gene's Truck & Diesel Depot (1 dealership), Great Dane On-Highway Trailers (1 dealership), LinkBelt Cranes (4 dealerships) and one Ford Auto dealership reported to be the fastest growing Ford store in the nation. With all dealerships supported though Doggett's in-house retail financing entity, Diesel Finance & Leasing LLC.
This acquisition, on the heels of Doggett's purchase of one of Houston's oldest and largest Ford dealerships (Lone Star Ford), boosts Doggett's dealership count to 35 which are located and/or have geographic responsibilities throughout Louisiana, Texas, Arkansas and New Mexico. Doggett, founded by Leslie Doggett and Brady Carruth in 1993 with 17 employees, was ranked in 2019 by the Houston Business Journal as Houston's Largest Family Owned Business (without outside investors of any kind) with annual sales approaching $2 billion through its 35 dealerships.
# # #
Houston, TX. – (Feb 23, 2021) – Doggett Freightliner continues to grow, expanding into the Brownsville area to provide expedited parts and unmatched service support for local customers. With the new Brownsville facility, Doggett Freightliner will have nine locations throughout Texas and Arkansas, including San Antonio, El Paso, Laredo, and Pharr, Texas, along with North Little Rock, Springdale, and Van Buren, Arkansas. The Brownsville facility complements Doggett's existing Freightliner and Western Star dealerships that now sell and service flatbeds, dry freight, refrigerated vans, and other over-the-road truck offerings. This new location will help local customers maximize uptime with expedited parts and dependable mobile support.