HOUSTON, Texas, Aug. 6, 2020 – Doggett Ford is truly honored to announce it has partnered with The 100 Club to present a new 2020 Ford F-150 Platinum truck to Houston Police Department Senior Police Officer Chase Cormier. Cormier sustained severe injuries and survived the horrific helicopter crash that took the life of his longtime friend and partner on May 2 of this year. In support of Cormier, Doggett Ford is proud to contribute $21,000, while The 100 Club covered an additional $50,000 of the truck expense.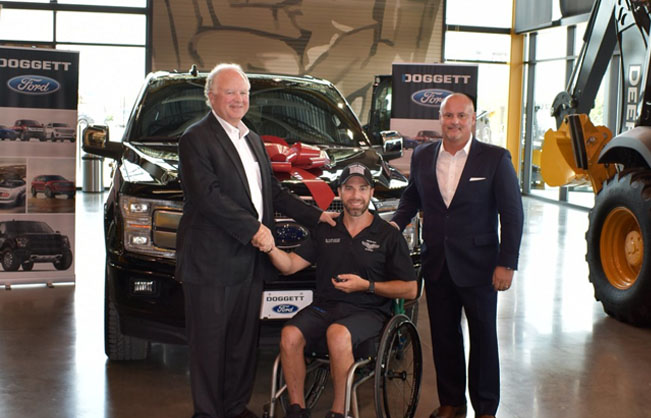 From left to right: Leslie Doggett, Chase Cormier and Jason Mosley
During a special key presentation on August 6, 2020, Cormier took delivery of his new Ford F-150 at Doggett's headquarters. Leslie Doggett, CEO of the Doggett Equipment Services Group, and Jason Mosley, Vice President and General Manager of Doggett Ford, were on-hand to celebrate this Houston Hero.
Doggett Ford and the Doggett Equipment Services Group are proud supporters of the Houston community and those who serve it.

"Despite being in a heart-wrenching helicopter crash, Chase has a fighting spirit to survive and recover. Not only am I grateful for his friendship, but we are all indebted to him for his service to the community since being sworn in as an HPD officer in 2006. I'm proud that The 100 Club and the Doggett Ford team can present Chase with this small token of our appreciation today," said Mosley.
###
About the Doggett Equipment Services Group
Doggett Equipment Services Group (Doggett) is a diversified heavy equipment dealer for seven industry-leading manufacturers that are either number one or two in their respective categories. Doggett, founded in 1993 with 17 employees, was ranked by the Houston Chronicle in 2020 as Houston's 9th largest private company with almost $2 billion in annual sales. Serving Texas, Louisiana, Arkansas, and New Mexico, its team of 1400+ full-time employees, including 500+ factory-trained and certified technicians, are dedicated to providing a world-class customer experience. Doggett is a family-owned business without outside investment headquartered in Houston, Texas.
Doggett is a proud dealer-partner with the following industry-leading manufacturers: John Deere Construction and Forestry equipment (16 dealerships), Toyota Material Handling for forklifts (7 dealerships), Freightliner and Western Star on-highway and vocational trucks (9 dealerships), Link-Belt Cranes (3 dealerships), Great Dane Trailers (3 dealerships), and a Ford auto and truck dealership. To learn more, visit Doggett.com.