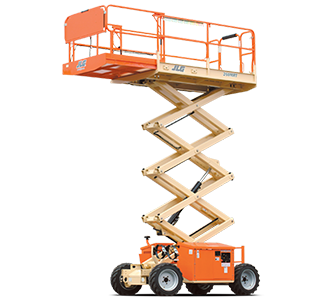 Scissor Lifts
JLG® scissor lifts deliver long lasting performance for a more productive day. This type of aerial work platform is ideal for indoor or outdoor construction or maintenance tasks. Choose from electric scissor lifts with longer runtime or engine powered scissor lifts for durability on rough terrain.
Electric Scissor Lifts
Enhance your productivity with less recharging and more uptime with JLG® electric scissor lifts. These machines are designed so you have fewer scheduled services, a quieter work area, less dependency on hydraulic oils and zero emissions. Also, the innovative operator controls and compact dimensions make this series extremely mobile.
1932R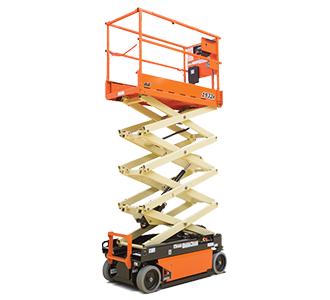 1932R
Machine Width: 2 ft 8 in.
Platform Height: 19 ft
Working Height: 25 ft
The 1932R was redesigned from the ground up with features like active pothole protection to make it a robust, rental-ready 19 ft scissor lift.
ES Series
ES Series
Machine Width: 2 ft 6 in. - 3 ft 10 in.
Platform Height: 18 ft 9 in. - 31 ft 9 in.
Working Height: 24 ft 9 in. - 37 ft 9 in.
The ES Series has the industry's best on-the-job performance with double the duty cycles of other electric scissor lifts. This gives you double the operating time on a single charge.
RS Series
RS Series
Machine Width: 2 ft 8 in. - 4 ft
Platform Height: 19 ft - 32 ft
Working Height: 25 ft - 38 ft
The RS Series is durable and long lasting, featuring passive pothole protection for simple reliable performance with industry-leading duty cycles and lower cost of ownership.
LE Series
LE Series
Machine Width: 5 ft 9 in.
Platform Height: 33 ft - 40 ft
Working Height: 39 ft - 46 ft
The LE Series offers a standard oscillating axle; 35% gradeability; rugged, non-marking foam filled, all-terrain tires and available all-wheel drive.
Engine Powered Scissor Lifts
JLG® engine powered scissor lifts are chosen for applications that require more workspace and more lifting capacity. The RT Series and MRT Model both provide a larger work area and generally higher load capacities than boom lifts. Both deliver exceptional terrainability and gradeability, making it easier to maneuver through the roughest job sites.
260MRT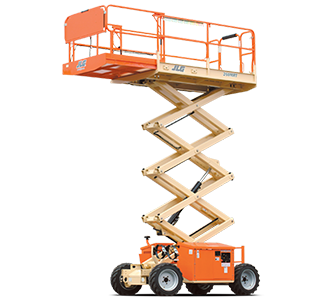 260MRT
Machine Width: 5 ft 9 in.
Platform Height: 26 ft
Working Height: 32 ft
The 260MRT delivers exceptional mobility thanks to its narrow design. And its large work platform with roll-out deck extension keeps everything you need within reach.
RT Series
RT Series
Machine Width: 7 ft 7 in. - 7 ft 10 in.
Platform Height: 33 ft - 53 ft
The powerful RT Series lets you work more efficiently on the job, over a range of applications, by accommodating more workers and supplies on its large platforms.