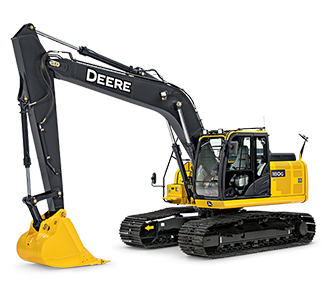 John Deere Excavators
Surprisingly spacious, comfortably capable.
Step aboard these G-Series Excavators and you'll quickly discover that compact doesn't have to mean uncomfortable. Their ergonomically designed operator stations won't cramp your legs, or your style. Seat and controls are optimally positioned to accommodate even larger operators. And nearly unobstructed visibility provides a commanding view of the surrounding jobsite. For cold-weather comfort, the 26G is available with an enhanced new heated cab that's even more spacious and easier to enter and exit than ever before.
17G
0–6 Metric Tons
Compact Excavators
Net Power: 10.8 kW (14.5 hp) @ 2,400 rpm
Operating Weight: 1720 kg (3,790 lb.)
Max. Digging Depth: 2.19 m (7 ft. 2 in.)
Max. Digging Reach: 3.81 m (12 ft. 6 in.)
26G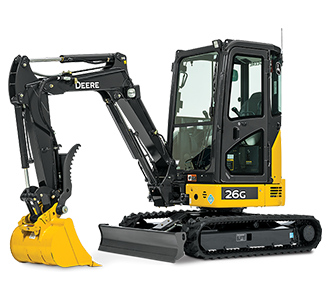 0–6 Metric Tons
Compact Excavators
Net Power: 14.9 kW (20.0 hp) @ 2,500 rpm
Operating Weight: 2770 kg (6,110 lb.)
Max. Digging Depth: 2.59 m (8 ft. 6 in.)
Max. Digging Reach: 4.63 m (15 ft. 2 in.)
35G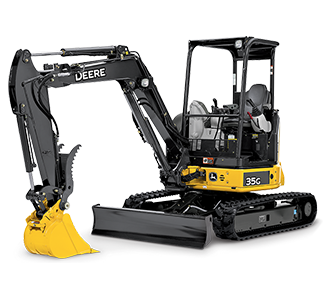 0–6 Metric Tons
Compact Excavators
Net Power: 17.4 kW (23.3 hp) @ 2,400 rpm
Operating Weight: 3520 kg (7,760 lb.)
Max. Digging Depth: 3.06 m (10 ft. 0 in.)
Max. Digging Reach: 5.21 m (17 ft. 1 in.)
50G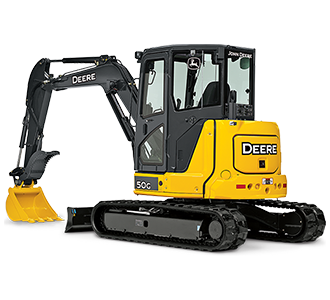 0–6 Metric Tons
Compact Excavators
Net Power: 26.8 kW (35.9 hp) @ 2,400 rpm
Operating Weight: 4790 kg (10,560 lb.)
Max. Digging Depth: 3.53 m (11 ft. 7 in.)
Max. Digging Reach: 5.96 m (19 ft. 7 in.)
60G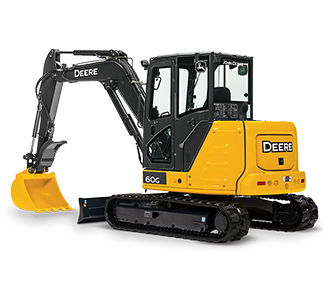 0–6 Metric Tons
Compact Excavators
Net Power: 39.6 kW (53 hp) @ 2,000 rpm
Operating Weight: 6145 kg (13,547 lb.)
Max. Digging Depth: 3.77 m (12 ft. 4 in.)
Max. Digging Reach: 6.23 m (20 ft. 5 in.)
75G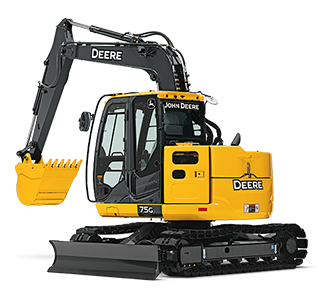 6–25 Metric Tons
Construction-Class Excavators
Net Power: 42.4 kW (56.9 hp) @ 2,000 rpm
Operating Weight: 8265 kg (18,221 lb.)
Max. Digging Depth: 4.11 m (13 ft. 6 in.)
Arm Force: 35.5 kN (7,981 lb.)
85G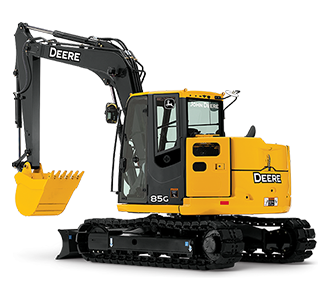 6–25 Metric Tons
Construction-Class Excavators
Net Power: 42.4 kW (56.9 hp) @ 2,000 rpm
Operating Weight: 8537 kg (18,821 lb.)
Max. Digging Depth: 3.99 m (13 ft. 1 in.)
Arm Force: 35.5 kN (7,981 lb.)
130G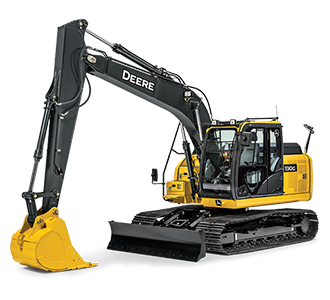 6–25 Metric Tons
Constuction-Class Excavators
Net Power: 73 kW (98 hp) @ 2,000 rpm
Operating Weight: 14 348 kg (31,604 lb.)
Max. Digging Depth: 6.03 m (19 ft. 9 in.)
Max. Arm Force: 67 kN (15,066 lb.)
135G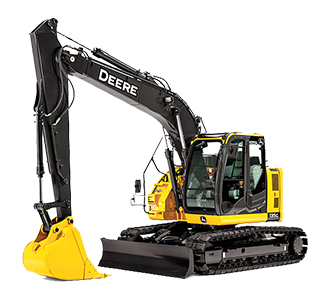 6–25 Metric Tons
Construction-Class Excavators
Net Power: 75 kW (101 hp) at 2,000 rpm
Operating Weight: 14,300 - 15,400 kg (31,500 - 33,920 lb)
Max. Digging Depth: 5.98 m (20 ft. 0 in.)
Max. Arm Force: 61 kN (13,710 lb.)
160G LC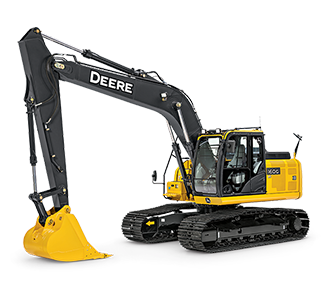 6–25 Metric Tons
Construction-Class Excavators
Net Power: 90 kW (121 hp) @ 2,200 rpm
Operating Weight: 17 945 kg (39,526 lb.)
Max. Digging Depth: 6.49 m (21 ft. 4 in.)
Arm Digging Force: 82 kN (18,508 lb.)
180G LC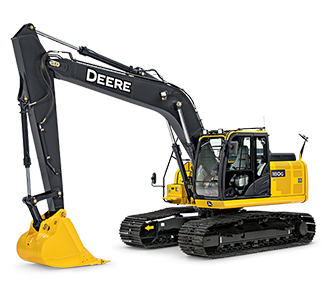 6–25 Metric Tons
Construction-Class Excavators
Net Power: 95 kW (128 hp) @ 2,200 rpm
Operating Weight: 20 507 kg (45,170 lb.)
Max. Digging Depth: 7.07 m (23 ft. 2 in.)
Arm Force: 84 kN (18,825 lb.)
190G W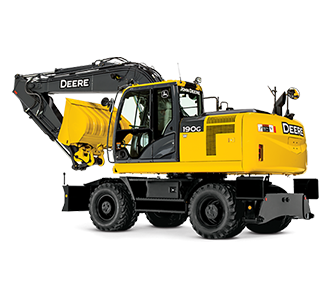 6–25 Metric Tons
Construction-Class Excavators
Net Power: 119 kW (159 hp) @ 2,000 rpm
Operating Weight: 19 960–20 200 kg (44,000–44,530 lb.)
Max. Digging Depth: 5.83 m (19 ft. 2 in.)
Arm Force: 87 kN (19,558 lb.)
210G LC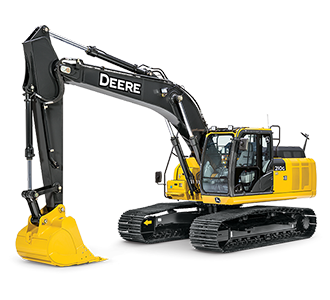 6–25 Metric Tons
Construction-Class Excavators
Net Power: 119 kW (159 hp) @ 2,000 rpm
Operating Weight: 23 560 kg (51,940 lb.)
Max. Digging Depth: 6.67 m (21 ft. 11 in.)
Arm Force: 114 kN (25,628 lb.)
230G W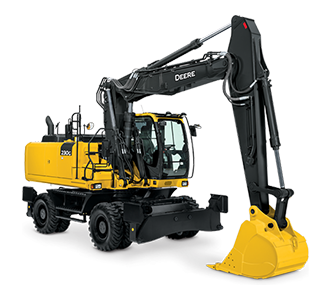 6–25 Metric Tons
Constuction-Class Excavators
Net Power: 119 kW (159 hp) @ 2,000 rpm
Operating Weight: 23 290–23 600 kg (51,350–52,030 lb.)
Max. Digging Depth: 6.31 m (20 ft. 8 in.)
Arm Force: 110 kN (24,729 lb.)
245G LC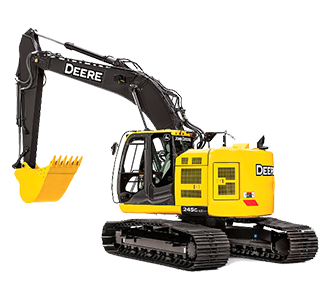 6–25 Metric Tons
Construction-Class Excavators
Net Power: 119 kW (159 hp) at 2,000 rpm
Operating Weight: 25,800 kg (56,830 lb)
Max. Digging Depth: 6.62 m (21 ft. 9 in.)
Arm Force: 114 kN (25,630 lb.)
250G LC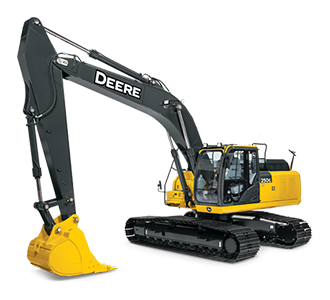 25–40 Metric Tons
Construction-Class Excavators
Net Rated Power: 140 kW (188 hp) @ 2,100 rpm
Operating Weight: 26 250 kg (57,800 lb.)
Max. Digging Depth: 7.61 m (25.0 ft.)
Arm Digging Force: 112.2–114 kN (25,224–25,628 lb.)
300G LC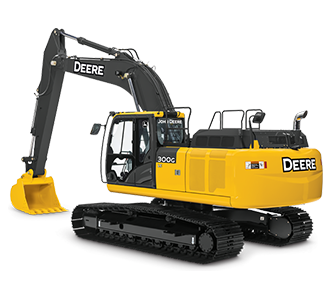 25–40 Metric Tons
Construction-Class Excavators
Net Rated Power: 166 kW (223 hp) @ 1,900 rpm
Operating Weight: 31 150 kg (68,674 lb.)
Max. Digging Depth: 7.87 m (25 ft. 10 in.)
Arm Digging Force: 121–138 kN (27,202–31,024 lb.)
350G LC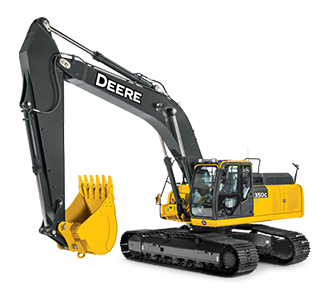 25–40 Metric Tons
Construction-Class Excavators
Net Rated Power: 202 kW (271 hp) @ 1,900 rpm
Operating Weight: 35 650 kg (78,550 lb.)
Max. Digging Depth: 8.18 m (26 ft. 10 in.)
Arm Digging Force: 152.6–159 kN (34,314–35,745 lb.)
380G LC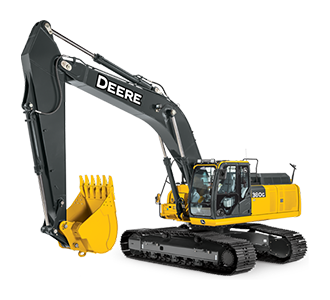 25–40 Metric Tons
Construction-Class Excavators
Net Rated Power: 202 kW (271 hp) @ 1,900 rpm
Operating Weight: 38 100 kg (83,992 lb.)
Max. Digging Depth: 8.18 m (26 ft. 10 in.)
Arm Digging Force: 152.6–159.0 kN (34,314–35,745 lb.)
470G LC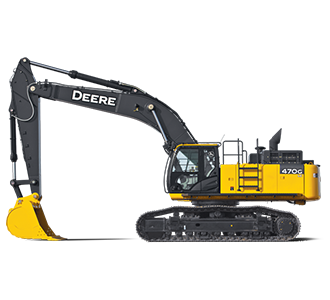 40–90 Metric Tons
Production-Class Excavators
Net Power: 270 kW (367 hp) @ 2,000 rpm
Operating Weight: 49 420 kg (108,952 lb.)
Max. Digging Depth: 8.28 m (27 ft. 2 in.)
Arm Digging Force: 196–201 kN (44,063–45,187 lb.)
670G LC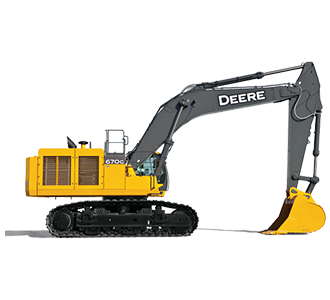 40–90 Metric Tons
Production-Class Excavators
Net Power: 345 kW (463 hp)
Operating Weight: 69,900 kg (154,103 lb.)
Max. Digging Depth: 9.15 m (30 ft. 0 in.)
Arm Digging Force: 224-231 kN (50,357-51,931 lb.)
870G LC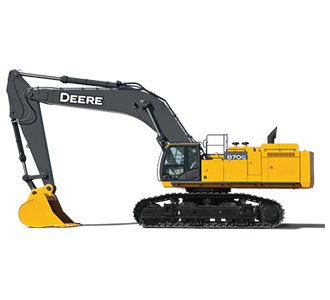 40–90 Metric Tons
Production-Class Excavators
Net Power: 382 kW (512 hp)
Operating Weight: 85,600 kg (188,716 lb.)
Max. Digging Depth: 9.57 m (31 ft. 5 in.)
Arm Digging Force: 273-280 kN (61,373-62,946 lb.)