John Deere Articulated Dump Trucks
Get more bang from your truck.
If you're looking to deliver big numbers to your bottom line, put our D-Series II Articulated Dump Trucks on your jobsite. These ADTs haul heaped payloads over adverse terrain with unsurpassed agility. They're highly reliable, too, with high-strength, welded alloy-steel chassis and dump-body components that are durable, yet lightweight. The quiet cab is loaded with productivity- and uptime-enhancing features such as auto shutdown, pushbutton transmission and dump-body controls, onboard weighing, and tire-pressure monitoring, to list just a few. With the 250D-II and 300D-II ADTs, you get everything you need to keep materials and profits flowing.
260E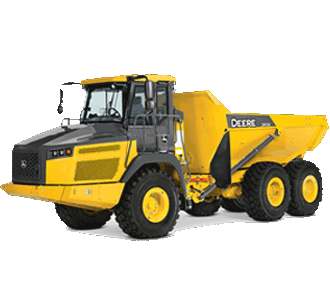 260E 
Articulated Dump Truck
Net Power: 239 kW (321 hp) @ 1,900 rpm
Rated Payload: 24 192 kg (53,334 lb.)
Heaped Capacity: 15.0 m³ (19.6 cu. yd.)
310E
310E
Articulated Dump Truck
Net Power: 264KW (354 hp) at 1,900 rpm
Rated Payload: 28,125 kg (62,005 lb.)
Heaped Capacity: 17.5 m3 (22.9 cu. yd.)
410E-II
410E-II
Articulated Dump Truck
Engine Power: 329 kW (441 hp)
Rated Payload: 37 266 kg (82,157 lb.)
Heaped Capacity: 22.9 m3 (30.0 cu. yd.)
460E-II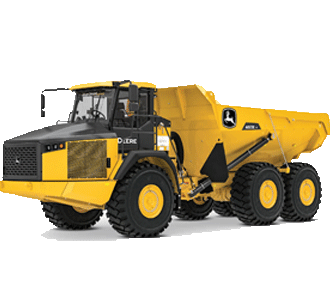 460E-II
Articulated Dump Truck
Engine Power: 359 kW (481 hp)
Rated Payload: 41 820 kg (92,197 lb.)
Heaped Capacity: 25.2 m3 (32.9 cu. yd.)