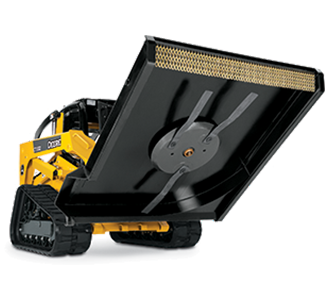 John Deere Attachments
Grow your productivity.
To get more productivity from your skid steer, compact track loader, loader, excavator, or backhoe, hook-up one of the many easy-to-use John Deere attachments. The ever-expanding lineup includes more than 100 models, so you're sure to find the right tool for the job. What's more, each is backed by legendary John Deere parts, service, and warranty coverage.
Ag Forks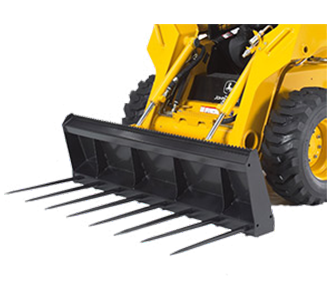 Models: AF60, AF66, AF72, AF78
The tines on these Ag Forks penetrate pen-packed material for easier cleanout. Visibility is unrestricted.
Backhoes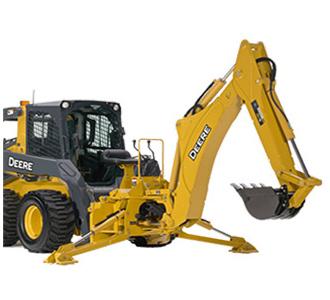 Models: BH7, BH8, BH9, BH11
Four models connect quickly without tools and offer simple two-lever operation. Digging depths range from 7-11 feet.
Bale Spears
Models: ROUND, SQUARE
Bale tines are retained with bolts, making them easier to replace and helps eliminate weld fractures.
Brooms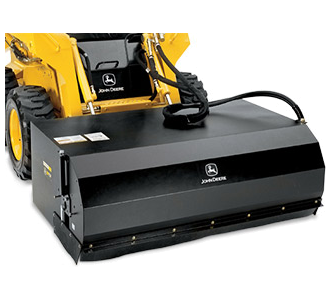 Models: BA72, BA84, BA96, BP84, BR60, BR72, BR84
Heavy-duty, high-torque drive motors ensure long-term dependability.
Brush-Tined Grapples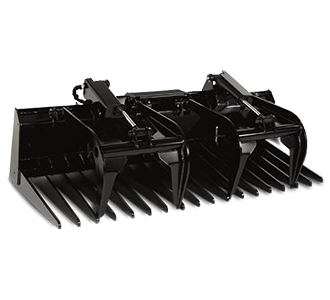 Models: GT72, GT80
Includes two independent-action grapples that allow different size objects to be grasped and retained. Best for easily moving uniquely shaped objects or debris that doesn't fit easily into a standard bucket.
Buckets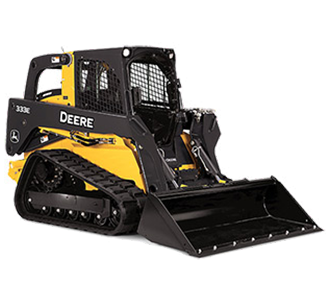 Models: UTILITY, FOUNDRY, CONSTRUCTION, TOOTH, DIRT, MULTI-PURPOSE, ROCK
For even higher productivity from your skid steer or compact track loader, hook up one of these easy-to-use buckets. Each is backed by legendary John Deere parts, service, and warranty coverage.
Cold Planers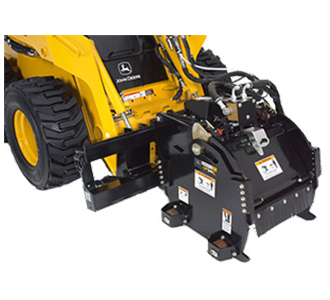 Models: CP18D, CP24D, CP30D, CD12D
Cold planers are ideal for milling damaged asphalt and concrete surfaces. Planetary drum drive adds service life. Hinged access cover permits easy cold-planer pick maintenance.
Dozer Blades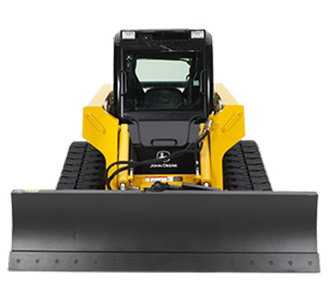 Models: DB84, DB96
Turns your skid steer or compact track loader into a compact bulldozer. Angles and tilts on-the-go for maximum productivity.
Hydraulic Hammers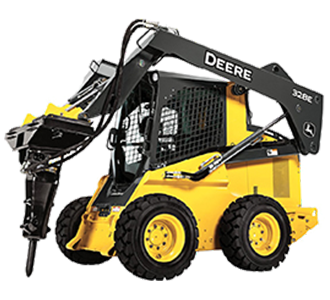 Models: HH20C, HH40C, HH60C, HH80C
Compact size and high power-to-weight ratio let these hammers work where others won't.
Landplanes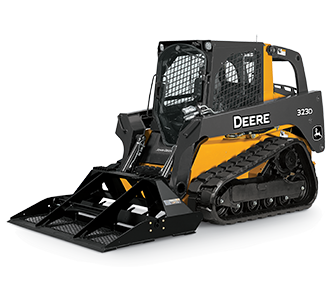 Models: LP72, LP78, LP84
Provides versatile, cost-efficient productivity for finish work. Front and rear cutting edges allow controlled grading and leveling.
Material/Manure Scrapers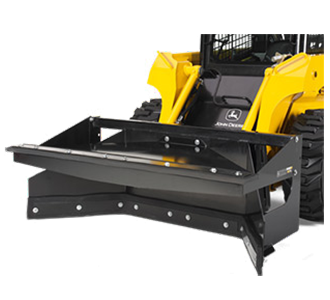 Models: MS60, MS72, MS84, MS96
Push or scrape manure, mud, light snow, or other wet or sloppy materials. Rubber edges work well on hard surfaces, such as concrete.
Mulching Heads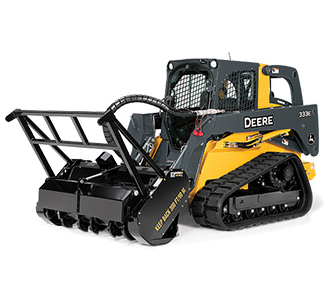 MH60C
Mulching heads boast wide rotors and double carbide-tipped teeth that shred wood materials into mulch in minutes. Remove underbrush and up to 8-inch trees and 12-inch stumps.
Nursery Forks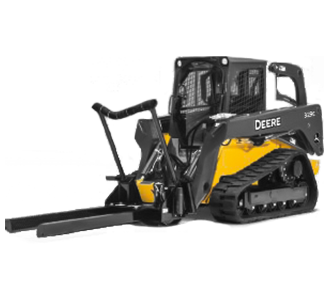 NF44
Nursery Forks enhance your productivity by transporting up to 1118 mm (44 in.) balled and burlap trees or container stock, but will also move rocks or light boulders.
Pallet Forks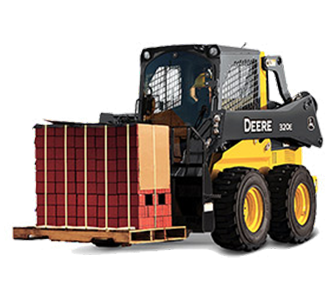 Models: PIN-STYLE, RAIL-STYLE, HEAVY-DUTY RAIL STYLE
Pallet forks are a standby tool for a variety of material-handling tasks. Choose from standard-duty pin-style, standard-duty rail style or heavy-duty rail style.
Planetary Drive Augers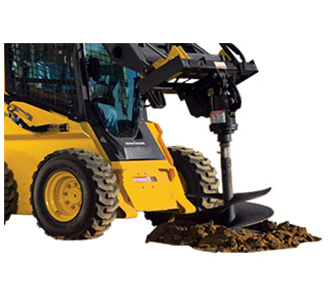 Models: PA15, PA30
Reverse rotation allows quick back-out when obstructions are encountered. Also helps shed dirt from the auger when working in wet conditions. Spring-loaded, double-lip seals guard against contamination.
Power Rakes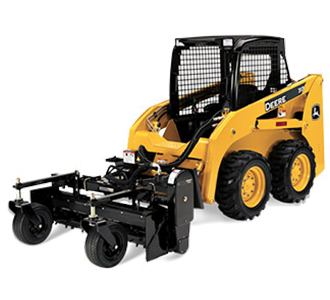 Models: PR60, PR72B, PR84B, PR96B
The Worksite Pro power rake line is the ideal skid steer tool for landscaping, seedbed preparation, rock raking and picking, site development and more.
Roller Levels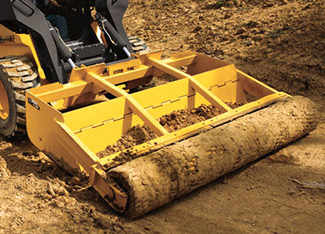 PL84
Unique front roller gives total control for contouring, grading, cutting, and smoothing flat or significantly sloped terrain.
Rotary Cutters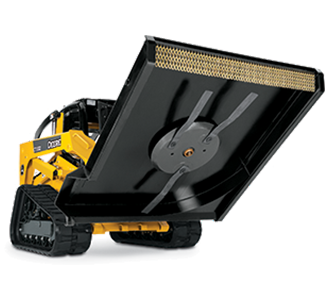 Models: RS72, RC60B, RC72B, RC78B
Double-edge blades, fast blade-tip speed, and tapered side-discharge chute ensure clean cutting and maximum material shredding. Cuts and mulches up to 4-inch diameter saplings and heavy brush.
Rotary Tillers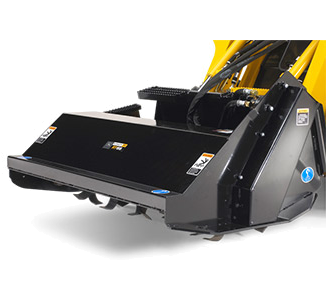 Models: RT52, RT66
The Rotary Tillers have a tilling depth of up to 6-inches. Bi-directional operation with heavy-duty adjustable leveling board increases your productivity.
Scrap Grapples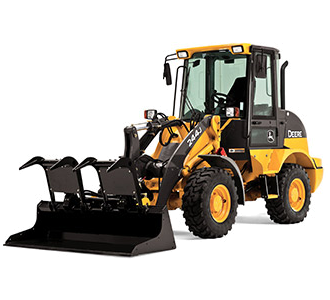 Models: GS60, GS66, GS72, GS78, GS84
Two independent-action hydraulic-powered grapples pick up and grip different-sized objects. Pre-drilled lip makes it easy to add an optional bolt-on replaceable cutting edge for longer life.
Side Discharge Buckets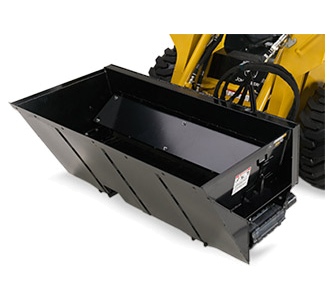 Models: SA60, SA72, SD72, SD84
Spread sand, sawdust, or straw in livestock stalls; backfill gravel into trenches; or, precisely place landscape mulch.
Snow Blowers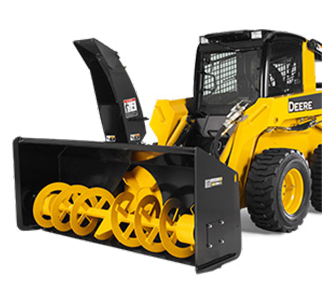 Models: SB60B, SB72B, SB72H, SB78B, SB78H, SB84B, SB84H
Make the most of your investment year-round. Equip your skid steer or compact track loader with any of these snow blowers and snow won't keep you from getting the job done. Two-stage hydraulic blowers throw snow up to 45 feet.
Snow Pushers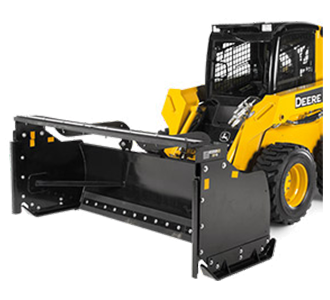 Models: SP8, SP10
Quickly and efficiently remove heavy snowfall from sidewalks, parking lots, and driveways. These foul-weather friends will expand year-round opportunities for your machines, helping make the most of your investment.
Snow/Utility Blades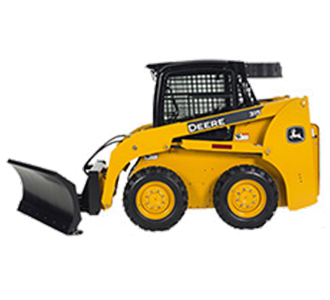 Models: UTILITY BLADES, V-BLADES
The versatility of the Worksite Pro Utility Blade provides added productivity. The blade can be used for both snow removal and light dirt work.
Steel Tracks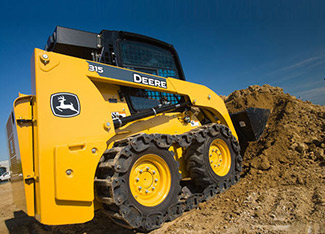 Models: 10-INCH, 12-INCH, 14-INCH
Don't let the rain keep you from getting the job done. Worksite Pro steel tracks' self-cleaning design reduces ground pressure and helps improve traction and flotation in soft, muddy, or loose conditions.
Three-Point Hitch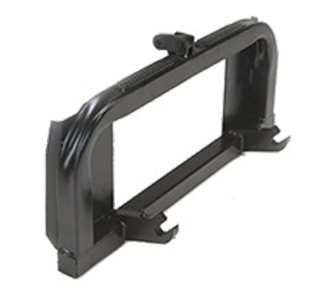 THREE-POINT-HITCH
Hook up and move tractor implements without having to use a large tractor. Also converts many tractor implements into handy tools for use on a skid steer. Hook up is easy and requires no tools.
Tooth Bar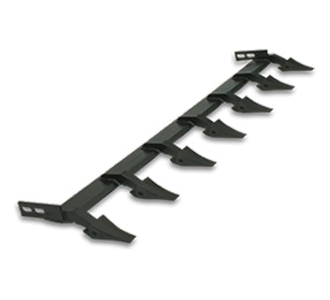 TOOTH BAR
In just minutes, a standard or multi-purpose bucket can be converted into a bucket with teeth. Tooth bars are excellent for loosening compacted soil or grubbing out rocks.
Trenchers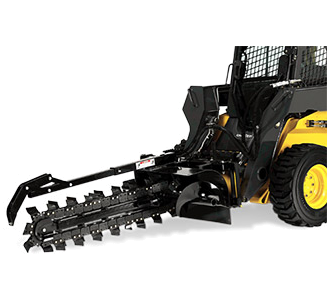 Models: TR36B, TR48B, TR60B
Worksite Pro trenchers come in 26-, 48-, and 60-inch digging depth, with high-and low-flow versions. The heavy-duty drive system eliminates chain reduction.
Utility Grapples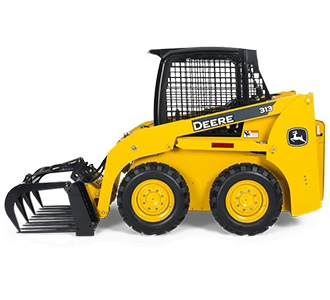 Models: GU60, GU66, GU72, GU78
These utility grapple tines can easily penetrate pen-packed material for quick clean-out. The grapple's tine spacing and one piece top clamp firmly grip hay and manure.
Vibratory Rollers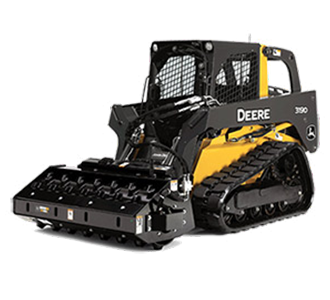 Models: VR66C, VR73C, VR84C
Like all Worksite Pro™ attachments these vibratory rollers are optimized to work with John Deere skid steers and compact track loaders, and are compatible with most competitive models.