Company Overview
Doggett has been the largest dealer in North America for three separate first-tier equipment manufacturers. The primary driver for Doggett's success and large-scale expansion has been Doggett's unrivalled commitment to service, customer support, and uptime on both represented and competitive brands. Many companies "talk the talk" about great service but, at Doggett, extraordinary service is what our company is all about.
Read More

What We Do

Doggett sells, rents, provides replacement parts and routine maintenance, repairs and support services for heavy equipment and engines of all kinds to customers in most industries, including pipeline contractors of all sizes (from backyard utility contractors to big-inch oil & gas pipeline spreads covering hundreds of miles over mountain ranges and through rivers), mining, dirt contractors, road and bridge construction, upstream, midstream and downstream energy services, stevedoring, forestry, highway trucking, regional and severe duty trucking, distribution and manufacturing of all kinds.

On a daily basis we sell and service heavy equipment, building our company through a straight forward approach based upon a keen understanding of the Texas and Louisiana markets combined with strong efforts to provide those correct services and products which ultimately increase the profitability of our business partners/customers through better utilization and lower overall costs of equipment ownership.

To that end, our factory trained, diligent, and upright technical team is the backbone of Doggett. For Doggett, it's all about our technicians and their unrelenting drive to make good on their/our promises. Our technicians while providing unmatched support services have built Doggett into one of the largest and best regarded heavy equipment distribution and support service providers in North America.

Exceeding Expectations

With our broad product support infrastructure and high-energy service capabilities, we deliver unique solutions that enable customers to achieve the lowest possible equipment owning and operating costs while maximizing uptime. Doggett employs approximately 1,500+ full-time, hard-working folks that consistently beat our customers' bid and/or budgeted targets in over thirty dealerships in Texas, Louisiana, New Mexico and Northern Mexico. Doggett is headquartered in Houston, Texas and has divisional headquarters in Baton Rouge, Louisiana and San Antonio, Texas.

Awards and Achievements Received from Manufacturers

Doggett is proud to have achieved recognition for its success representing first-tier manufacturers of heavy equipment. Doggett's awards include:

John Deere's Peak Performance Award (it's highest dealer award)
Doggett is one of the three largest John Deere dealers in North America
Toyota's President's Award (ten times and counting)
Doggett is the largest Toyota Industrial Dealer in North America
In its first three years of operation, Doggett Freightliner achieved Successful Dealer Magazine's recognition as one of the three highest performing dealership groups in the United States (measured not just against other Freightliner dealers, but all heavy truck dealerships in North America).
Prior to being a John Deere dealer, Doggett was a Case Construction and Agricultural Tractor dealer attaining the highest market share in North America with over 50% share in certain model categories while become the largest dealer in North America for Case CE with dealership division groups based in Houston, Dallas/Fort Worth, Nashville, Memphis and Atlanta (Leslie Doggett, Brady Carruth and Frank Erwin were partners in the Case Dealership Enterprise – Equipment Support Services).

Doggett has become the largest dealer in North America for three different first-tier manufactures, an accomplishment no other dealer has achieved. The driver of this success is an unrelenting pursuit of customer support and uptime excellence by our outstanding teams in the field. Simply put, our technicians live and breathe uptime, that's the Doggett difference.
Headquarters
At Doggett, our headquarters are much more than a place to work. We have built a highly efficient operation where our team can learn, collaborate, and grow in a fast-paced and exciting environment. Our customers also benefit from this facility where we offer unmatched efficiency, especially in customer support including uptime logistics, replacement parts delivery, complete machine and engine repair. Our headquarters are the latest step in our proud history. Starting in 1993, Doggett's single location was an 18,000 square foot office/warehouse space on Wallisville Road in east Houston. From this small leased space, which flooded often from the nearby bayou, Doggett began to grow. A little over ten years later, Doggett's headquarters moved to a company-owned facility on Houston's North Freeway, and we established regional headquarters in Baton Rouge and San Antonio.
Read More

As the business continued to grow, we again found ourselves restricted with space. In 2015, we moved into our current Headquarters on 22 acres located at 9111 North Freeway, on the former site of Landmark Chevrolet. The building itself is the country's largest John Deere dealership, with service/repair capabilities exceeding any competitive facility in the State of Texas or Louisiana.

At Doggett, we believe in a close relationship between administrative and operational team members. To that end, we have relocated and centralized Doggett's corporate group to our new facility. The corporate group oversees 1500+ full-time employees and 35+ dealerships, and includes all administrative departments including human resources, customer appreciation, uptime science, grade control & telematics, accounting, finance, IT, recruiting, marketing/social media, and legal. Our facility seamlessly integrates these corporate functions with tractor operations through architectural floorplans that promote a highly-collaborative environment.

Our building is a highly unique structure with some true firsts in the heavy equipment business in terms of operational functionality and efficiencies, technical capabilities, collaborative motived floorplans, green initiatives, cost-effectiveness, security and sustainability. We hope to dramatically impact Houston's north side redevelopment while proudly representing the Doggett Equipment Services Group as a whole and, most importantly, building a better customer experience.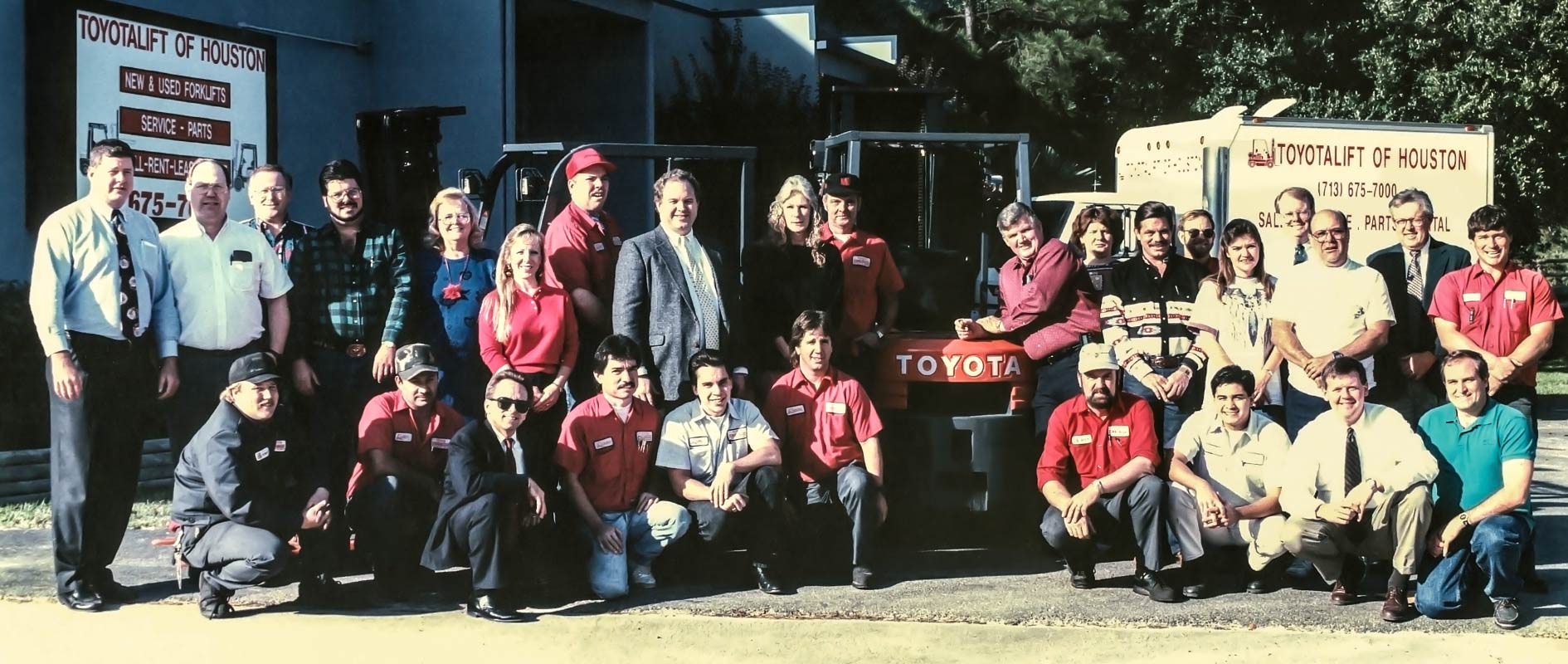 Toyota Lift of Houston in 1994, Doggett's first location.
Overview
From its beginning at its Houston Toyota Industrial Equipment store in 1993 (with 18 employees, including 9 technicians), Doggett has grown to 1500+ full time employees, including 600+ determined, factory-trained technicians servicing multiple brands, all of which are either number 1 or number 2 in their respective industries. Doggett operates equipment dealerships servicing Texas, Louisiana and New Mexico with 30+ dealerships and annual sales exceeding $1 billion.
Doggett is a privately held, locally-owned, managed and operated company without private equity or financial partners. How have we grown to be one of North America's largest equipment distributors in the past 20 years? We bring a local business's work ethic and focus all of our efforts everyday on our customers' UPTIME. UPTIME is everything to us and our NUMBER 1 PRIORITY is to make sure your UPTIME is unmatched—we keep our promises made in the dirt and on the front lines, which is rarely replicated by others.
At Doggett, there are no "hired guns/professional managers". Instead the business is run by only a few "home grown" folks on our management team keeping our reaction time low and flexibility high when customer decisions are required. If you, our customer partners, need a unique, fast resolution to a problem, we respond immediately. Leading those efforts are the heads of each division listed below and many qualified, well-trained, ambitious managers at each location. We also have lean management team overseeing all operations, which includes Chief Financial Officer Brian McLemore (raised in Sulphur, LA), General Counsel, William Doggett (raised in Houston, TX), Director of Recruitment, Amy Doggett, (raised in Houston, TX) and Chief Executive Officer and President Leslie Doggett (raised in Houston, TX).
Doggett Material Handling/Forklift Division
Headed by Ken Townsend, William Doggett and Andy Reynolds
Good friends since childhood, Leslie Doggett and Brady Carruth, acquired Toyota Lift of Houston from Gulf States Toyota in 1993. Doggett's sales and operations background combined with Carruth's finance and insurance background, created a partnership that had a solid business foundation and was eager for growth. With 18 employees, Doggett and Carruth set out to grow Toyota forklift sales and service consistent with their philosophy: guarantee customer's uptime of equipment on an at-risk basis (see Philosophy).
Toyota Lift of Houston's market share quickly rose from 7% to more than 40% in certain forklift classes. Today, Doggett's material handling business, through acquisitions of south and west Texas dealerships, is the largest and highest volume Toyota Industrial Dealer in the United States.
Doggett Construction & Forestry Division
Headed by Mike Ortiz
Capitalizing on the expertise developed in its successful material handling and Case Construction and Agriculture equipment businesses (Doggett was Case CE's largest dealer in North America when that business was sold in 1999), Doggett acquired distribution rights for John Deere Construction Equipment. Starting with the south Texas market (2005), and later expanding into the entire State of Louisiana and east Texas (2007), Doggett eventually was awarded distribution rights for the greater Houston market, acquiring the existing Houston John Deere Construction dealership from Rush Enterprises (NASDAQ: RUSHA & RUSHB). Now, Doggett is the exclusive John Deere Construction dealer for the Gulf Coast from New Orleans to Brownsville, and from east Texas to McAllen, becoming one of the 3 largest John Deere dealers in the United States.
Doggett Highway and Severe Duty Truck Division
Headed by Paul Burk
Doggett acquired the distribution rights for Freightliner and Western Star Trucks in 2013 with dealerships in San Antonio, McAllen/Pharr and Laredo. In 2014 Doggett acquired the truck division from Stewart & Stevenson (Formerly NYSE: SNS) adding a Freightliner dealership in El Paso. In 2018, Doggett acquired privately-held Truck Centers of Arkansas giving Doggett distribution rights for all Freightliner and Western Star branded trucks and parts for most counties in the State of Arkansas with full service sales and leasing dealerships in Little Rock, Fayetteville and Van Buren. In 2019, Doggett acquired privately-held Truck Enterprises Inc. (founded in 1980), an authorized Western Star, Detroit Diesel and extreme heavy duty trailer dealer located in El Paso, Texas and Carlsbad, New Mexico, giving Doggett its third location in El Paso, Texas and adding Carlsbad, New Mexico. The Doggett Truck team substantially grew revenue and profitability and, in just three years of operation, was recognized by Successful Dealer Magazine as one of the top 3 dealership group in the nation measured against all brands and all dealers.
Doggett Crane Services Division
Headed by Derek Paternostro
Doggett was appointed the Link-Belt Crane distributor for the State of Louisiana including Rough Terrain, Telescopic Truck, Truck Terrain, All Terrain, Lattice Crawlers and Telescopic Crawlers. LinkBelt Cranes are sold and serviced from Doggett dealerships in New Orleans (Kenner), Lafayette, Baton Rouge, and Shreveport.
Doggett stubbornly strives to be the service and support supplier of choice to heavy equipment users in all of the markets we serve. That is, to provide repair and maintenance services on all competitive brands on a guaranteed and measurable basis which, in the end, allows the end user to spend more time on direct business requirements/needs while allowing Doggett to become their trusted equipment specialist/partner.
The backbone of this philosophy and culture is our team of world-class technicians and hard-working support team whose quality of work and strength of promise mean everything. As our customer's UPTIME is the single most critical statistic we know, the strength of character found in our technicians and support team is key. It is key because the ultimate responsibility for UPTIME is on their shoulders, the shoulders of the men and women in the dirt with the machine. Doggett separates itself from the crowd with these unique/guaranteed/on-time services and high quality repairs which allow Doggett to earn a fair return on the value we create for our coveted customers/partners.